Sussex Wedding & Party Band For Hire - The Low Down
Welcome to our website!
We are Brighton / Sussex based rock and pop function band called The Low Down! We're a live band available to hire for weddings, parties and corporate events in Sussex and now UK wide, thanks to our exclusive agency, Alive Network.
As we're a talented three piece covers band, you will be paying for less members than your average band. This means we are more suitable for tighter budgets without compromising on the core elements of a live band, allowing us to keep your dancefloor bouncing all night long!
We studied at the prestigious music college, BIMM and we have had a great deal of professional experience as a function band, and as session musicians since graduating. Read our bio here.
We offer 2 hours of live music as standard, often performed as 2 x 60 minute sets with a short interval. We also offer a number of upgrades, including acoustic sets...to find out more visit our What We Do page.
Our repertoire contains songs from the 60s, 70s, 80s, 90s, 00s and 10s, so there's a good mix of music to keep audiences of all ages entertained throughout the duration of your event.
If you're interested in booking us - awesome! Use the widget in the sidebar to check your event date and make an enquiry, or use the contact page to find our agent's details.
If you're undecided, check out our media, FAQs and our previous clients' testimonials...
- The Low Down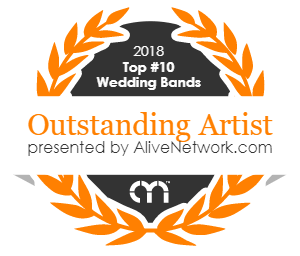 ONE OF THE BEST WEDDING BANDS FOR HIRE IN EAST SUSSEX
What you get:
3-piece band - guitar/vocals, bass, drums
2 x 60 minute sets OR 3 x 40 minute sets
DJ set (free if you book us within 7 days of enquiry)
FREE first dance song request
Additional options
Solo acoustic set (1 x 60 minute set)
Full band acoustic set (1 x 60 minute set)
Additional full band set (40 minutes)
1am finish
Acoustic sets
Acoustic background music sets are perfect for a drinks receptions, for during dinner or to keep the party going between the wedding breakfast and evening reception. 
Safe, Secure Bookings
We are a member of Alive Network, the leading provider of East Sussex wedding bands and the largest supplier of wedding entertainment in the UK. Our bookings are secured with a contract for your peace of mind and supported with 24/7 emergency cover. Our customer support team at Alive are the best in the industry and will be happy to answer any questions about the band and offer advice to help ensure things run smoothly. Once your booking in place you are very welcome to chat with us directly. We treat each event with individual care and attention to your requirements and will endeavour to accommodate any requests made.